Heavenly Thrifting & an Inexpensive DIY Carry-On
This summer, I was obsessed with finding the perfect vintage floral carry-on. I was particularly interested in overdyeing a canvas or cotton bag. I stalked Etsy and had my eye on a couple.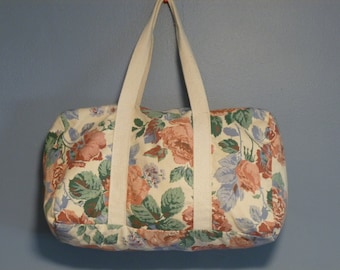 One of the ones I favorited was this one by
Basement Princess Vintage
. It was reasonably priced but I decided to check the thrift store next to my apartment - just in case they had something that would work.
Guess what? The thrift store had the EXACT SAME BAG. For 50% off. Making it a grand total of $2.50 and within walking distance of my apartment. How often does this happen? Never. Really, this never happens - you might thrift for a year and then come across the bag or something similar. But the same day? The exact same bag? The coincidence is more exciting than the bag itself.
I dyed the bag with blue RIT dye and I love it! I used it for vacation this summer and it was perfect. Have you ever had a heavenly thrifting experience where you scored just the thing you were looking for just the right price? It's exhilarating, I tell ya. Makes my heart beat faster. ;)